We're really pleased to begin the rollout of the new Swiftcomplete Location Platform, including:
Expanded data coverage, with fine-grained dataset control
Improved search capability
New insights for customers
From today, customers using our Reverse Geocoding API have automatically been switched over to our new platform, with our what3words Integration, Address Autocomplete, Property Descriptions API and Places API to follow within the next few weeks.
Swiftcomplete customers can access improved data coverage and search capabilities without needing to make any changes, as the new platform is fully backwards compatible with all existing JavaScript and API integrations.
What's new in part 1 of the Swiftcomplete Location Platform rollout?
We focused our research and development of the new platform around three core themes: data, search and insights.
There's a lot to talk about, so in this first platform rollout update, we'll focus on data.
How do we make use of different datasets which often have patchy coverage, come from multiple suppliers and are updated at different frequencies?
In the UK, we're fortunate to have access to accurate datasets from Ordnance Survey and Royal Mail that are updated frequently and cover the whole of the country.
However, outside of the UK and a handful of other countries, it often isn't possible to obtain quality datasets that reliably cover the whole country.
The new Swiftcomplete Location Platform will allow us to provide a more consistent and reliable service in countries where full datasets aren't available.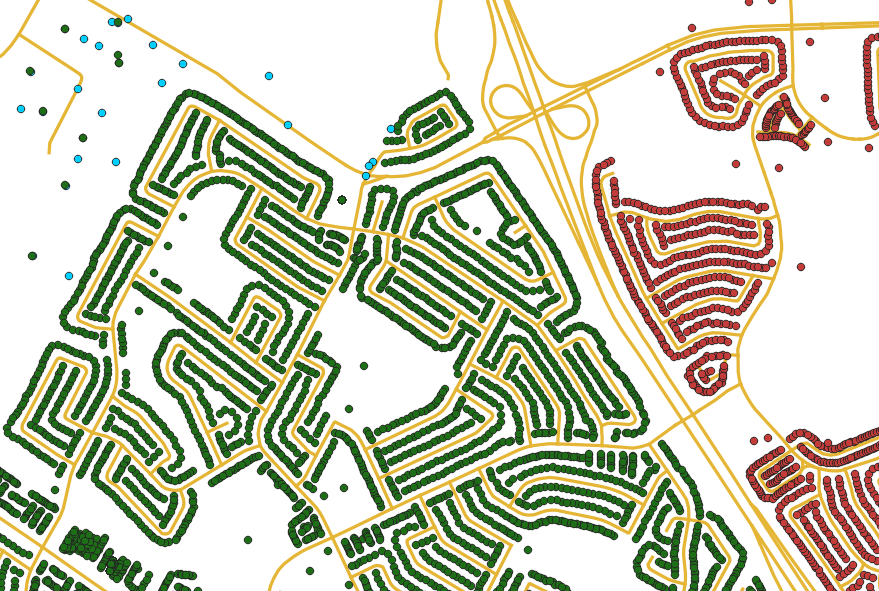 In the example above, the platform automatically combines three different address-level datasets (green, red & blue dots) with a street-level polyline dataset (yellow lines) to provide the best possible address autocomplete and geocoding coverage.
Despite these datasets overlapping, with different update frequencies, columns and address formats, the platform automatically cherry-picks the best parts of each dataset in real time to provide optimal coverage for customers.
We can now also combine datasets from customers (e.g. click and collect locations or drop off points) with our own data, to create a bespoke address autocomplete or geocoding service on a per-customer basis.
Fine-grained dataset control
Over the course of this year, we will build up coverage for countries city-by-city, state-by-state, and combine our data with customer datasets to create a unique search service.
The new platform means that we can onboard new datasets in minutes, and seamlessly search across hundreds or thousands of datasets simultaneously, without degrading response times.
This new fine-grained control allows us to provide a bespoke service to each customer, prioritising datasets that are suitable for the customer's use-case and swapping datasets in & out to boost performance and conversion rates.
New Canadian Reverse Geocoding Coverage
Using the new platform, we've expanded our Reverse Geocoding service to include Canada and added an extra 3 million addresses in Great Britain.
Our Canadian coverage is comprised of over 30 different datasets, seamlessly blended in real-time to provide full ranged-address coverage, with accurate address points for almost 50% of the population.
Documentation for the Reverse Geocoding API is now available, with information and code samples to help you integrate the service through an API or npm package.
Additional address points will be available for Canada over the coming weeks.
Questions & Feedback
The next part of our rollout will be search, which will significantly improve our Address Autocomplete and what3words integrations. Keep an eye on our blog for updates, or follow us on Twitter and LinkedIn.
In the meantime, give our new Canadian Reverse Geocoding a try, and if you have any questions about this update or suggestions for our future product roadmap, we would really like to hear from you!